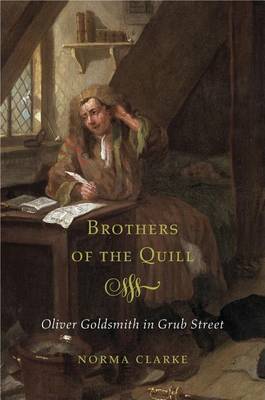 This month Dr Johnson's Reading Circle met with Norma Clarke to discuss her book about Oliver Goldsmith and his fellow Grub Street writers. Like many of the writers we've met before, Norma told us that she hadn't revisited the book since it was released and being asked to speak to the group gave her the courage to do so.
The book seeks to explore Oliver Goldsmith in context as an Irish-immigrant writer for hire and to use him as a way to 'pay attention to the way cultural factors affect writers' from within the big system of print and print culture that he and others were caught in. It's less a biography and more of a sociological exploration. Goldsmith isn't the bumbling 'poor Goldsmith' of Boswell's writing, nor is he the unworldly innocent as he appears in the Victorian imagination: he is a canny player with a keen sense of what his audience wants to read.
It is Goldsmith's talent, his ability to create quality work fast and in a range of styles and genres that allowed him to ascend in the writersphere. He never fully left the grind of writing behind him, but as the book points out, nor did Joshua Reynolds leave the grind of daily painting. Goldsmith's reputation for foolishness and awkwardness seem to come partly from his efforts to negotiate the minefield of respect and reputation that was the shifting literary market at the time. No supporters of patrons, he took one in Nugent. A railer against the anonymous compilers and compendium creators of his time, the vast body of his work consists of compilations of histories. He wrote a novel with a seemingly innocent tone which has all sorts of barbs buried in it where the moral at the end is spoken by a conman.
What's more, he longed to please and amuse, as a writer and as a person. He may have had strong views about the situation of Ireland and the Irish, about the evils of slavery or the corruption of luxury - but he was not going to risk the enjoyment of his reader to create haranguing works. He was also prepared to tell jokes at his own expense, jokes that people like Boswell (who could never have told a joke against himself) didn't understand.
If Goldsmith was a man of contradictions, he was one living in an age of contradiction. The rich and the poor moved through the same streets, MPs fighting for civil liberty at home fought for slavery abroad, Grub Street filled pages with works both ephemeral and eternal. Whether he was drinking with Samuel Derrick (editor of Dryden's work and a popular 'What Prostitute?' guide), or he was secretly writing scripts for masques at Mrs Cornelys (love of Casanova, exclusive club owner and eventual donkey-milk street seller), Goldsmith navigated an unstable world with relative success.
Certainly more successfully than fellow Irish writer, Jack Pilkington. Son of the infamous Laetitia (subject of another book by Norma Clarke), he had helped her edit the last volumes of her tell-all memoirs (Laetitia's rather than Norma's, that is - although Norma recently published her own wonderful memoir, Not Speaking) and decided to write one of his own. He built up an impressive list of subscribers, partly by threatening to expose those who didn't subscribe within the pages of the book. Shortly after the book was released, he ran to Europe to escape creditors and never came back.
Brothers of the Quill also included some of the most interesting discussions of slavery the Reading Circle has had in some time, as it presented the topic from many different angles. Goldsmith himself was against slavery, but he wasn't against receiving gifts and support from Robert Nugent the MP of Bristol who defended the trade that supported so much of his constituency. Then there was James Grainger, another Irish writer who went to St Kitts where he worked as a plantation manager and doctor. He wrote The Sugar Cane, a West Indian georgic poem which raises small questions about slavery but ultimately can't see a way without it. Smollett, the writer of Roderick Random and Humphry Clinker (which the Reading Circle read in 2019) could set himself up as a gentleman writer on the funds of his wife, a Jamaican heiress.
As well as providing a more human Goldsmith who is more than a fool with a golden pen, as well as providing different ways of looking at how writers were shaped by their circumstances, the book is also a fount of so many of those little anecdotes that remind me of why I love the London of eighteenth-century writers. Whether it's Paul Hiffernan being robbed by a man he's just resuscitated from the gallows, Derrick being put up at a friend's and having nowhere to sleep but in a cot with his feet poking out, or Richard Pockrich with his musical glasses - there's always an outrageous story lurking round the corner. We were entertained and informed and the evening was a fast-paced and lively one and we all thoroughly enjoyed meeting Norma Clarke.