During the Easter Holidays, my parents, my sister, her fiancé and I went to Disneyland Paris. The trip was a present to my sister for her 30th birthday, which had been during 2020 and so we didn't get around to it until 2022. Here's a couple of photos from Disney.
It was a strange place. We went one week away from its own 30th birthday and big chunks were closed off or covered by scaffolding, even parts of the front entrance. However, I do love the themed lands, enjoy a bit of the Pirates of the Caribbean ride and found the Alice and Wonderland maze really fun. We had a good time and even had a meal at Remy the rat's restaurant in Ratatouille.
After a few days in the park, we spent one in Paris, where my family went home and I stayed a few days in the city by myself. My airbnb was up 6 flights of a very well worn staircase with decorative iron banisters with flakey red paint. From my windows I saw the rooftops of Paris and the Basilica of Sacré-Coeur lit up. I'd highly recommend where I stayed, on Rue de Lancry near the Canal Saint-Martin in the 10th Arrondissement.
I spent the next few days eating as much pastry as possible, even managing score a free chocolate beignet from one place. As well as this, I explored.
The first day I hopped on the Metro to Notre Dame Cathedral. Of course it wasn't possible to go in, with the fire they had in 2019 but the hoardings around the site gave really interesting information about the building and the new things they were learning about the cathedral in rebuilding parts of it. Also, as I walked around, it was possible to see support timbers and parts of the building never usually seen - so it wasn't a total waste. Also it was fun walking down the Seine and seeing the little bookshops.
Another draw near Notre Dame was Shakespeare and Company, the American bookshop where writers in the early 20th century would crash and use as a base in Paris, also the first place to publish Joyce's Ulysses - except it's not. It's a bookshop run under similar principles though and still a pretty special place. The downstairs is a normal bookshop but the upstairs is a wonderful hodgepodge of books pile everywhere as well as places to sit. I sat in a warm, comfortable room with sunlight pouring in, reading a really interesting looking book about a gay man comparing himself to a witch (I wrote the name of him and the book in my notebook.. but more about that later). As I read, the bookshop's cat came and slumbered on my lap, purring. It's a pretty special place.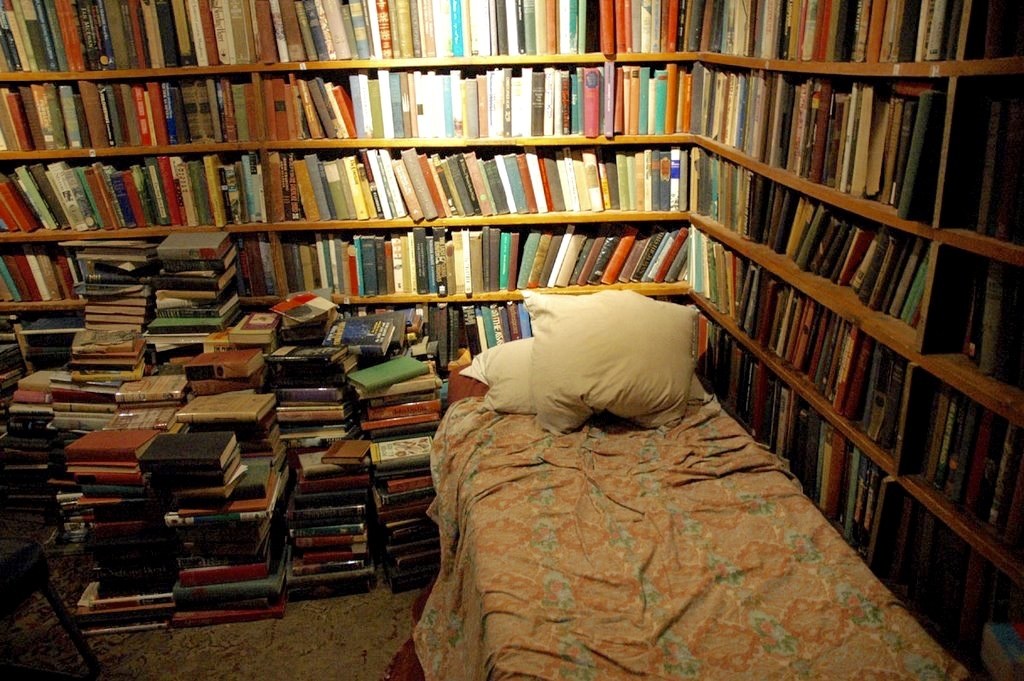 After that I crossed a bridge and went to the Conciergerie. Originally a palace built by Phillip the Fair, you were ushered into this huge room with gothic columns. It has been the soldier's mess hall when first built but took in a number of other roles too. Along from that was the kitchens, a round stone room with four huge fireplaces. Along from the hall were recreations of prison cells. After its use as a palace it became a courthouse and prison, becoming the main prison of the revolutionary period. Four-thousand people were sentenced to the guillotine there, including Marie Antoinette and Robespierre.
It was interesting reading the justifications of the time known to British people as The Terror. There were videos with historians arguing that the system was far fairer than under kings, that there was a kind of court in place, that they processed cases quickly instead of keeping people in prison for a long time. There was even a historian arguing how the guillotine was revolutionary in its fairness as kings and commoners alike had the same method of execution. Apparently the revolutionary government planned to abolish the death penalty but never found the time quite right.
It was a fascinating place to visit, seeing the cells and the place where Marie Antoinette was kept. The experience is added to, by an augmented reality system called histopad which showed you recreations of the places you stood at different time periods as you looked through it. They also had a silly thing where you could put your face in historic people's portraits. I did a few but it unfortunately only sent the one of me as Robespierre.
I continued my wanderings, nearly being sold seventy euros of nougat, looking at the church of St Surplice and coming into the back of the Luxembourg Gardens. I didn't know what they were but found them very charming, with little formal gardens and statues, including the first model of the Statue of Liberty. There were chairs littered about that everyone could sit on, which I thought was a good touch, and much better than Green Park's deckchair hiring scam. Then I turned round, saw that I'd been walking in the shadow of a massive and very beautiful palace. There were people singing in a bandstand and I sat in the sun and soaked up the songs and atmosphere for a while.
Then I went to the Place de Edmond Rostand (Cyrano de Bergerac shout-out) to the Panthéon. Originally started as a church dedicated to Paris's patron saint (the very cool St Genevive who stood up to Atilla the Hun and Frank invaders) the revolution abolished religion and the building became a secular temple. It's the strangest place. It looks like a church, feels like a church, they even have churchy music playing every now and then but instead of an altar, there's a huge statue of France. The vaults hold a number of France's most revered people including Voltaire, Rousseau, Dumas and Zola. The Curies are also down there and the man who invented Braille. It's odd, these vaults are open to the public and you just wander about to see who's buried where.. there's a lot of space for future people. I picked up a copy of Zola's The Belly of Paris there and a little bust of Voltaire for my bookcase.
The next day was calmer. I walked from my place to Montmartre, sat and read my book in the gardens and then wandered the streets taking in Le Lapin Agile, seeing Satie's house and then going to Montmartre Cemetery, which feels like a little town for the dead. I saw graves of the inventor of the saxophone, of the can-can, of numerous artists, of Foucault and I read a chapter of Henry Murger's Scenes from the Latin Quarter on a bench next to his grave.
That night I joined a singalong in a bar on the street I was staying. There was a disco and I danced, I drank, I spent all the money I had and I got on the Eurostar the next morning with a very sore head and my notebook somewhere in a Paris bar. I loved my couple of days in Paris, found the people very friendly and the city very safe and easy to navigate. I'm tempted to go again sometime.
(It is crazy how often they change their street names though.)